After 6 months of searching for a responsible, reputable Cocker breeder we feel extremely blessed to have found Kailynn at Cutin Blue Farms. Kailynn's knowledge, advice, and love of her dogs is amazing. As is her consistency to always be available to answer any question or concern we may have had when first bringing Finley home. I could Never Thank Kailynn or her family enough for there responsible breeding of the most beautiful, smart, amazing and funnest Cocker we have ever had!!( Finley is #3) Finley is an Absolute Joy and the LOVE of our entire family! We are very excited to be getting our second Cocker from Kailynn this fall and know he will be Nothing short of AMAZING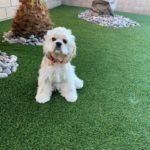 We are very happy with our Cocker Spaniel puppy from Cuttin Blue Farms. We were able to meet the puppy at the breeder's home and it was easy to tell the puppy was well socialized to children and adults. Our most important criteria for a puppy was temperament and health and we have been more than satisfied. Our puppy is calm, smart and eager to learn. We know she will make a wonderful companion for years to come. Thank you Cuttin Blues Farms!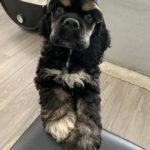 I cannot thank Kailynn enough for bringing such a wonderful puppy to my life. Kobe has been the easiest puppy I have ever had (he is my fifth). He absolutely loves people which I believe comes from such a healthy upbringing with Kailynn, her husband, and kids in their loving home. As a result he is quite the popular puppy with all humans, both adults and kids! He is also well-adjusted to new experiences: rather than being scared of loud noises like fire trucks, he is curious about them. He loves puppy class and always gets compliments from the trainer for how quickly he learns (I promise I am not biased!). He had already started potty training prior to my pick-up date, thus he learned it very quickly in his new home. Kailynn has put so much love and attention in breeding healthy and good-natured Cocker Spaniels. And I must admit her Cocker Spaniels are so beautiful; I have not gone a day without receiving a compliment about Kobe's luxurious coat. Thank you again for changing my life for the better!
We are so thankful to Kailynn at Cuttin Blue farms! The dedication and love for the cocker breed is evident in every single baby she produces. We have adopted not one, not two, but soon THREE baby girls from Cuttin Blue farms! We have fallen in love with the temperament of their puppies and are so excited that they come from great therapy parents as therapy work is big on our hearts. The relationship we have built with Kailynn throughout each adoption process is priceless and the experience keeps us reaching out at least once a week just to stay in touch. We can't say enough about them. Thank you so much for our fur babies and the hours of advice and guidance that came along with them! You're the best.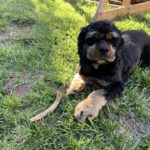 Molly has been such a fun addition to our family! She's just one of the girls around here. We have 3 young children and one on the way and it's busy around here! They made adding a puppy to the family such an easy transition! She came to us already crate trained and ready to potty outside! I so appreciate the love and diligence they put into our pup. I know that was key to the easy and wonderful transition into our home.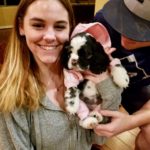 This bundle of joy has brought us so much happiness…I cannot thank you enough!! What I appreciated the most was the love and care that you gave our little Luna in preparation for her to come home…it made the transition so easy for her.
She knew her name, was on a schedule, loves a bath, pretty much potty trained, loves being in her crate at night and was so loving from the start. You truly have a special gift and we know it was meant to be that we found you and you helped to bring us this unbelievable bundle of true happiness ?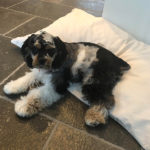 I wanted to pass on she is the most hugged puppies in her training class. She has the best temperament of any of the previous six cockers we have had. Our four granddaughters adore her. She gets on well with people and other dogs. She is very smart she was completely house broken in two weeks. Just wanted you to know it has been a great having Tuila experience