We have over 30 (thirty) years of experience in raising healthy, loving home pets and service dogs for perfectly matched companions. Our continuous research and consultations with veterinarians and top industry experts have informed our approach to 'co-ownership' or 'Guardian homes' to strengthen the genetic quality of our Cocker Spaniels.
In our innovative breeding program, we regard the health, happiness and overall well-being of our dogs and puppies of primary importance.
Protocols around our breeding ladies and studs
In addition to our current healthy litter-producing adult females, we also raise a component of 'young ladies' who in due time, will take over the breeding functions from these adult mothers. The current mothers, potential young mothers, and males (studs) live in our home on the ranch while some live with loving guardians (Guardian homes) as a family pet in their home.
Our protocols in raising our puppies are aligned to the highest industry standards. Once they are weaned and successfully matched with their new pet owners or guardian homes, the mother dog either enjoy being pampered on our family ranch or will return to her 'guardian family' for continued care and affection by her doting guardian parents. The studs are mostly kept on the ranch, with one or two being placed with guardian families.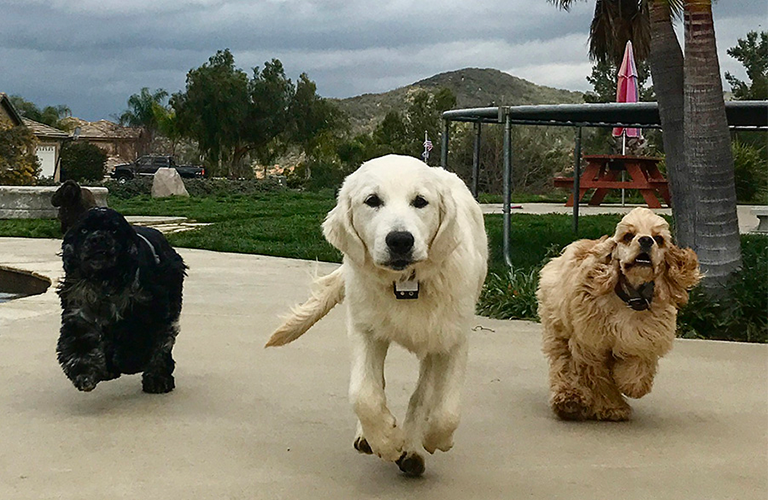 What are the protocols of becoming a Guardian home?
Guardian dogs live as a family pet in the home of their guardian parents usually within a 90-mile radius from Idaho. In addition to being a home-owner, it is also required that your home is securely fenced in and no un-spayed or neutered pets share the home with our breeding dog.
We apply very strict criteria in regards to co-ownership/guardianship which includes a general assessment procedure with potential guardian families whereupon a deposit of $500 for any puppy of your choice is required. Naturally, the breeding rights and processes are retained by Cuttin Blue Farms as well as reasonable access to our dogs during their breeding life-cycle. For this reason, a mutually agreed-upon contract is signed by both parties.
What extra costs are incurred by a guardian?
Becoming a guardian means that you are permanently responsible for your pet's 'holistic' wellbeing which includes the following:
Purchasing high quality balanced food (as recommended by Cuttin Blue Farms
Minerals and vitamins (as prescribed by our veterinarian),
daily grooming,
veterinarian bills for routine visits and inoculations.
We pay all costs in relation to the reproduction cycles which include: special supplements required by the mothers and studs and veterinarian bills for moms and suckling puppies.
Will a guardian dog spend much time away from their guardian families?
Yes, we will require our guardian dogs at the ranch during breeding seasons as will be discussed in detail before the contractual agreement is signed. However, guardian parents will be informed timeously when their guardian pet needs to be brought to the ranch. Aligned with industry standards, an adult mother will have a set number of litters before retiring.
This is when the concept of guardian homes augurs well for our dogs; once they reach the 'retirement' stage. Males are neutered, females are spayed and for the rest of their lives, they continue enjoying the love and companionship as pets in the homes of their Guardian families.
We understand that sometimes unexpected situations arise, so if the guardians are at some stage not able to continue with our breeding program, the dog has to be returned to Cuttin Blue Farms who retains ownership of the dog until retirement.
Prospective guardian parents can make an application on our website to adopt a puppy from one of our impending litters.