There are many brands and varieties of dry food for your cocker spaniel. Some are better than others, whether that be in taste, nutritional value, or health benefits. We'll be counting down our top 10 best dry dog foods for your cocker spaniel.
Purina Dog Chow. It's the standard of dog feeding, but should it be? Probably not. Its first ingredient is corn, a low-nutrition grain.  Worst of all, actual meat (in this case, chicken) is seventh place in the ingredient list, after more grains and less-than-nutritious byproducts. For all these reasons, plus the fairly frequent recalls, Purina is at the bottom of this list.
"Healthful. Flavorful. Beneful," says the now-infamous commercial. According to Dog Food Advisor, however, Beneful is fairly middle of the road when it comes to nutrition. Unlike Purina, it does start with meat, and has some useful fat close to the top of the list, but the rest of the major ingredients are grains. As has been said before, grains aren't quite as important for dogs as meat, so there's a lot of filler in this food too. If it had a bit more meat than grain, it'd be higher on this list.
As this food's name indicates, it is free of grains, which already puts it ahead of the pack. It only has a few controversial ingredients, which makes it a good food for your cocker spaniel. There are different varieties of it, too, in case they have allergies or are picky eaters. Try a bag, see if your dog likes it.
Orijen isn't a cheap brand of dog food, but it is high-quality. With a variety of flavors, and a good fat to protein ratio, your cocker spaniel will love it. It's good for dogs with allergies, as there's a lot of uncommon types of meat available. The only downside, again, is the high cost. But if you're willing to pay, you'll have a happy, healthy cocker spaniel.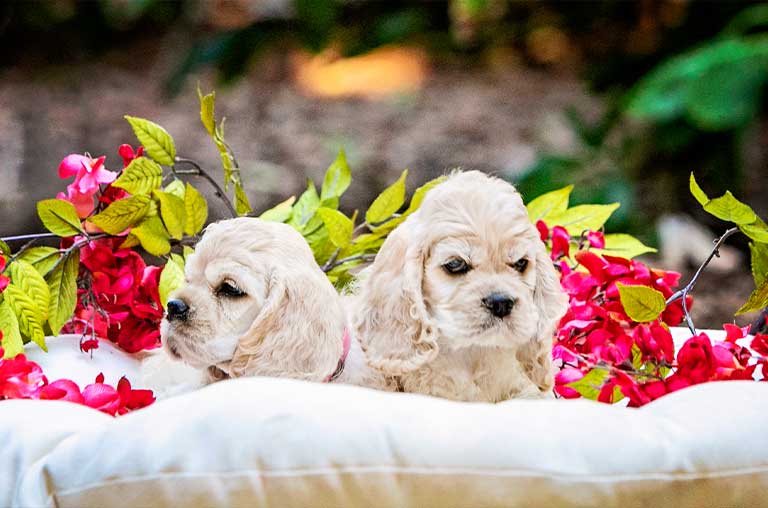 Unlike most dog foods on this list, this grain-free food is made from fish. It's good for dogs with allergies to common meats and grains. What it does have, however, are sweet potatoes, which cocker spaniels tend to love. Your beloved cocker spaniel will happily snap this food up. And you'll feel good letting them do so.
This striking brand of dog food, with a wolf on the bag, is one of the best foods for your cocker spaniel. It has both grain-free and grain-inclusive varieties, different types of meats and fish, and lots of nutrients and pre-biotics. It's a nutritious food that your cocker spaniel will enjoy, and it's easier on the wallet than Orijen.
This chicken-based kibble has often been highly rated in dog food lists, having even been number 1 in the past. Dogs of all breeds love it, and so will your cocker spaniel. It's grain-inclusive, but with grains like oatmeal, that are more nutritious than corn, and less likely to cause itching and allergies. It has a very balanced protein to fat ratio, too. Try a bag, see why it's been so highly rated.
With many different flavors, this food is one even your pickiest cocker spaniel will love. And there's little worry about allergies, as it has more than just your average chicken or beef. You could give your pup lamb,